Abstract: A new year is coming soon. People expect and do things to make 2016 happier. Aiwheel S6 electric scooter will lead you to ring out the Old Year and ring in the New Year. We sincerely hope you have a happy new year.
On the occasion of New Year, the newly released electric scooter S6 by Airwheel Technology with humanized design and abundant functions will absolutely make you success both in your career and love in the New year.
Diligent office workers can benefit from riding S6 sitting posture self-balancing scooter. Many people take subway to go to work and sometimes they need to walk when there is still some distance between home and subway station, between subway station to the office. In the coming year, you will be eager to take the scooter instead of walking to go to work. Steering on the road, you can sit or stand on the electric scooter and adjust the height of the seat for making your riding comfortable. When you do not need it, this scooter can be packed easily since it is smaller than the traditional two wheels self-balancing scooters. Considerate S6 makes you feel relax and happy so your work will be more efficient.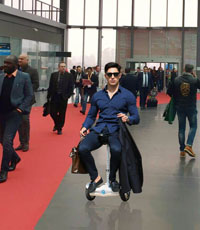 If you are still single, try to date and take Airwheel S6 mini self-balancing scooter. Its intelligence and convenience will help you for your dating. When he or she is tired, sit in the scooter to keep going. You also can show him or her the intelligence of S6. It can be controlled wirelessly. The remote control key with four buttons almost includes all the functions that we use constantly. Besides, the inside Bluetooth transmitting module can do real time interaction with APP on your mobile phone. So it is evident that winning his or her love will not be so hard. Hope you can find your Mr. Right as soon as possible.
More importantly, the cores and battery protection plate S6 hoverboard are all duplicate. They can work independently but when one of them fails to work, the other one can operate normally. Airwheel S6 leads you to live a new life and gives 365 days' safety to you.