Abstract: The best scenes could be viewed by conquering the most challenging road conditions. Airwheel intelligent self-balancing scooter S5 accompanies those courageous people across the rugged path.
Though Airwheel two-wheeled self-balancing scooter airwheel Q3 electric scooter has drawn widely attention, it is actually released in 2015. The vehicle, allegedly, claims the amazing off-road capacity. Whether it is worthy of the title, the most powerful SUV scooter, the on-the-spot tests will prove it.
How much similarity do S5 share with S3? The electric self-balancing scooter S5 belongs to the same series with S3, therefore it is fair to say that S5 is a wilder version of S3. S5 is equipped with larger tires than S3 and gives an wild appearance. The 16-inch huge wheel hub of S5 makes it stronger. The most thoughtful detail might be the fender equipped. It is quite useful and practical function for outdoor riding. For professional self-balancing scooter enthusiasts, they care more about the functions of the tires rather than appearance. The tires have larger contact area with the ground. In addition, it has better grip effect and is adaptive to all kinds of road conditions.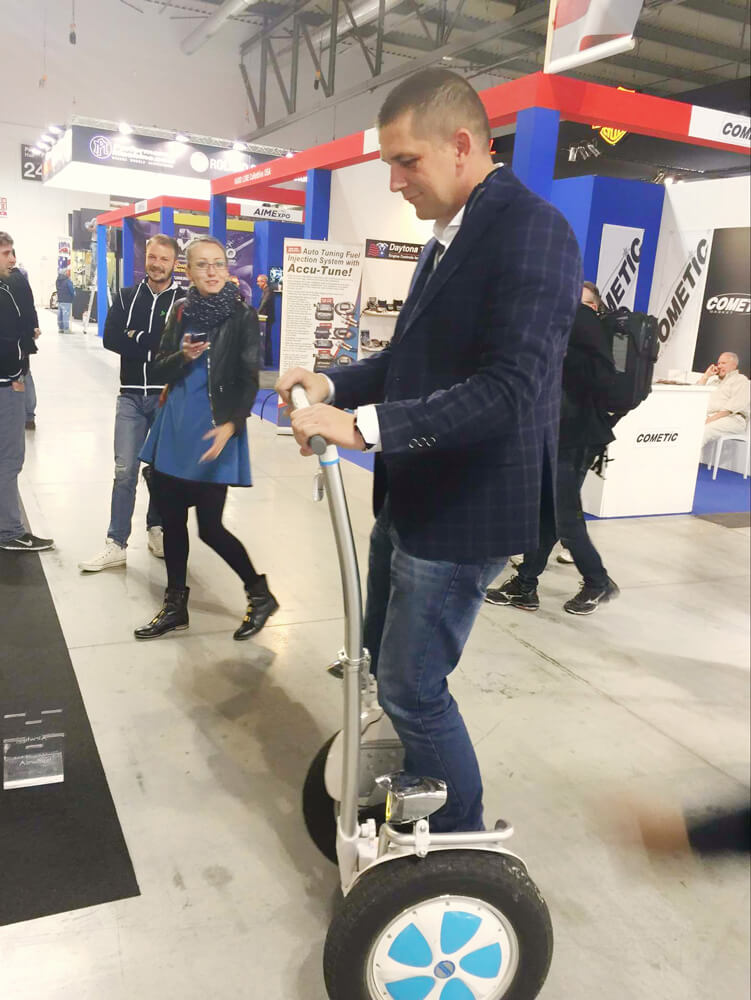 How about the grade ability? The maximum output of Airwheel S5's motor could reach 1500 W, the largest among the current Airwheel intelligent scooters. The robust power support the vehicle to pass through the slopes in the most easy and smooth way. The battery capacity of Airwheel intelligent scooter S5 is 680 WH, the largest among all Airwheel products. Larger battery capacity guarantees longer running distance. In the real road test, Airwheel S5 continues to work for 45 to 50 KM after a full charge. The superior cruising ability save people from embarrassment of battery shortage outdoor. The tail lights automatically light up in braking to give warnings of pedestrians behind. It is quite safe for both the riders and people around.
There are quite more outstanding details refined to assist s5 electric scooter to be an authentic and reliable outdoor SUV scooter. The best scenes could be viewed by conquering the most challenging road conditions. The outdoor riding experience of the electric scooter is similar to the experience in real life, which both includes challenging, climbing, and crossing. Airwheel S5 has the power to accompany riders to reach the zenith of life.